Office 365, Made Easy
Quick Start Cards are a must-have cheat sheet for getting ahead of the learning curve with your software. This handy six-page guide will help you navigate the Office 365 interface and walk you through everything from personalizing your settings, collaborating on shared documents, understanding which tool to use when, and more.
Whether you're trying to improve your personal productivity or transform the way your team works, BrainStorm offers a range of solutions that help people and organizations do more with the software they use every day.
Ready to see what Office 365 could do for you?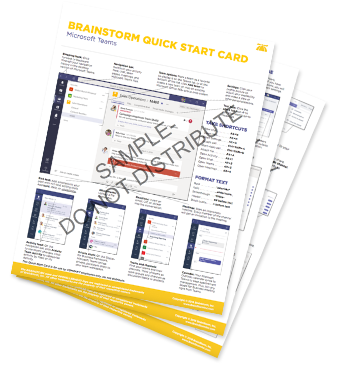 Download a Free Sample Now
"BrainStorm is a go-to productivity partner for Microsoft. BrainStorm has done this by personalizing, attracting, and engaging users with comprehensive training and change management. BrainStorm and Microsoft working together has unlocked people's potential. We are changing the way the world works."
– Gail Thomas | Vice President of West Region Enterprise, Microsoft