The Great Resignation is here—and it has employers scrambling. Faced with an unprecedented resignation rate, companies are searching for more effective employee engagement ideas; anything to keep their people happy and productive.
The problem is, the old ways of encouraging employee engagement aren't going to cut it. Today's disillusioned workers won't be placated by a new foosball table in the breakroom and the promise of casual Fridays.
In addition to better pay and more flexible hours, most workers just want to feel like their job is meaningful. In fact, one study finds that 9 out of 10 people are willing to earn less money if it allows them to do more meaningful work
More importantly, if employees aren't engaged in their work, they won't stay. According to Gallup,
The more disconnected employees feel, the greater their readiness to job hop … While 37% of engaged employees are looking for jobs or watching for opportunities, higher numbers of employees who are not engaged or actively disengaged are doing the same (56% and 73%, respectively).
Which brings us back to the million-dollar question: how do you keep employees engaged?
The secret to employee engagement
If this talk of employee engagement sounds expensive and unattainable—it really isn't. And no, your company doesn't have to be a humanitarian organization to provide meaningful work.
To be honest, employee engagement largely comes down to one thing: culture.
Inc. describes corporate culture well:
Employees in an unhealthy culture tend to view themselves as individuals, distinct from the company, and focus upon their own needs. They perform the most basic requirements of their jobs, and their main—and perhaps only—motivation is their paycheck.
Sounds like the textbook definition of a disengaged employee, doesn't it?
On the other hand:
In a healthy culture, employees view themselves as part of a team and gain satisfaction from helping the overall company succeed. When employees sense that they are contributing to a successful group effort, their level of commitment and productivity, and thus the quality of the company's products or services, are likely to improve.
In short, if you build a company that provides employees the opportunity to work together to achieve satisfying results, you end up with a culture that keeps people engaged and makes them want to stay.
The shortcut to a healthy company culture
Of course, fixing your organization's culture can feel like a nebulous and overwhelming task. Where do you even start?
Dispense with the motivational speakers and positivity campaigns. Leveraging your company's philanthropic strategy is an easier and faster way to see big changes.
The benefits of giving back
Think about it—providing employees with opportunities to engage in a meaningful service is the practically the definition of healthy culture.
Moreover, involving employees in corporate philanthropy accomplishes three additional things:
It encourages people to view themselves as part of a larger cause

It requires people to work together with others

It asks people to look beyond their own needs
Naturally, corporate giving isn't a substitute for paying employees competitive wages or providing a supportive work environment. But it's a great place to start if you need to turn your culture around.
Corporate philanthropy in action
If we're coming on a little strong, it's only because here at BrainStorm, we're really into giving meaningful service and fostering a culture that focuses on the importance of others.
Check out our two principals, Eric Farr and John Wade, as they share what makes BrainStorm so special:
Brainstorm Gives Back: Fortune Magazine & Best Place to Work Awards
In a nutshell, we believe that changing the world starts with individuals who are committed to making a difference, which is why we encourage our employees to engage in regular service activities and donations every month.
As with any kind of change, we've found that a heavy-handed top-down approach doesn't work too well. ("You're going to do something nice for someone, and by George, you're going to have fun doing it!")
Instead, we provide both structured activities and some employee-directed opportunities to give.
Structured giving opportunities
To make sure service is a consistent part of what we do at BrainStorm, our Corporate Giving Committee organizes monthly Give Back activities. Most of these are local projects, designed to help members of the community.
Give Back activities
It's not unusual to see BrainStorm employees work on conservation efforts, volunteer at homeless shelters and hospitals, or wield power tools during Habitat for Humanity projects.
Some are one-off activities, while others—like sponsoring a literacy program at a rural middle school in Utah—have built long-term relationships with other organizations.
Red Nose Day
We're a competitive bunch, and our annual Red Nose Day gives free rein to that competitive spirit. Every spring, we race against each other in a point-based scavenger hunt, and the top three teams get to choose which charities will receive $250 from BrainStorm.
Slopes Serves
But hands down, the biggest event championed by BrainStorm employees is Slopes Serves, a two-day event held annually as part of the Silicon Slopes Tech Summit in Salt Lake City, Utah.
Each year during the summit, BrainStorm employees are assigned as table captains over a large-scale food-packing operation. The task? To package a million healthy meals for the Utah Food Bank in just two days with the help of other corporate sponsors and a raft of volunteers.
As with all Give Back activities, BrainStorm pays its employees to participate in every company-sponsored service project. According to leadership, there's no better place for employees than actively serving the larger community in meaningful ways.
Individual giving opportunities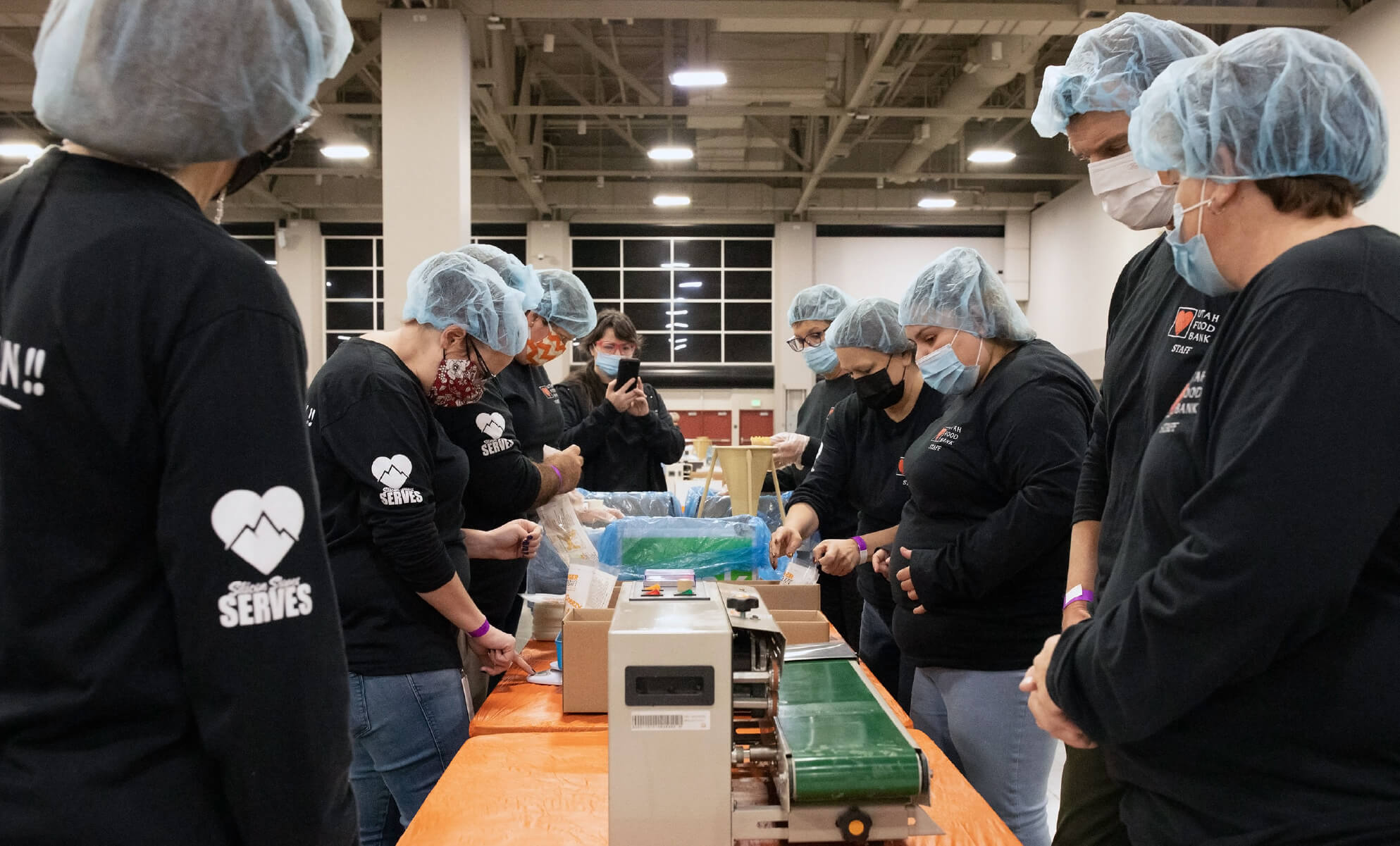 At BrainStorm, corporate philanthropy isn't just about corporate sponsorships or donations; it's about getting employees to engage in a cause that's bigger than them.
Employee-directed causes
To this end, BrainStorm employees can suggest worthy projects to the Corporate Giving Committee, which regularly meets to determine what causes should be funded.
For example—someone may feel invested in helping an organization like Fight Against Domestic Violence along with more personal projects like extending financial support to a colleague with cancer or to someone who has lost a spouse.
Monthly 50
The Monthly $50 program is a way to encourage BrainStorm employees to do something kind for business partners, customers—even active service personnel.
Whether it's a get-well-soon present for a client's sick child or a birthday gift card to favorite restaurant, the Monthly $50 encourages us to look for opportunities to serve others and build human connections.
Service Days
Because giving isn't just about money, employees also are allotted three days of PTO each year for service. This might look like serving at a soup kitchen, pitching in during a city cleanup, sewing toys for needy children, or volunteering in the schools.
Whether it's a donation of time or money, BrainStorm empowers its employees to make a meaningful difference and find ways to improve our communities.
Don't wait to engage
At BrainStorm, this culture of service is well established, but you may wonder if your organization can spare the time or effort to do likewise. Can you still stave off low morale or employee turnover in the short term—and bolster your company culture?
The short answer is YES.
Start with your employees. Ask them about the causes that matter most to them, and then find a way to work those ideas into your corporate philanthropy strategy.
While you're at it, why not ask employees to head up a project they're passionate about?
On the flip side, if you're a disengaged employee—don't wait for your organization to change its culture. Look into your company's corporate philanthropy policies and see what you can offer. Then, find a way to get your team involved as well.
Still can't effect meaningful change in your workplace?
You're in luck—BrainStorm is all about change. And we're always looking for brilliant, motivated, oddball individuals to keep us moving forward. If you like to think big, play hard, and prank occasionally, we'd love to meet you.
Interested? Check out our careers page to find the change you've been looking for.