Have you always admired famous painters, but the only thing you can produce are stick figures? PowerPoint makes it possible for even the most art inept to discover their creativity with Artistic Effects. And it all happens with a simple click.
To discover your hidden talent you will need to open PowerPoint to a slide with a picture (or quickly insert an image on a fresh clean slide in PowerPoint). Then select that image. Under Picture Tools, go to Format | Adjust | Artistic Effects.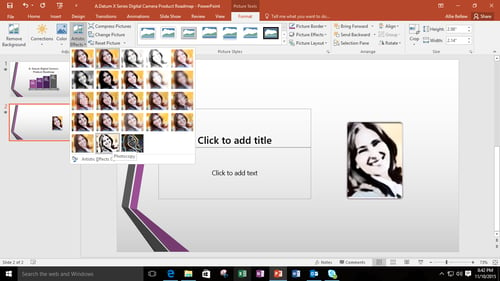 When you hover over the each of the options in the gallery, you'll see a preview of that effect on the picture in the slide. This makes it easier to choose your creative direction without feeling pressure. You can hover over each choice until you really feel it speaks to you. When you finally land on one that piques your artistic flare, click it. And if you're feeling particularly artistic, you can select Artistic Effect Options (at the bottom of the Artistic Effects gallery). In the Format Picture panel, under Artistic Effects, you can manually adjust the transparency and an option specific to the effect you choose. For example, when you select the Crisscross Etching effect, you can adjust the Size. When you select Photocopy, you can adjust the Detail. When you manually adjust the details, you will see the changes on the image. If you don't like what you see, click Reset and start over.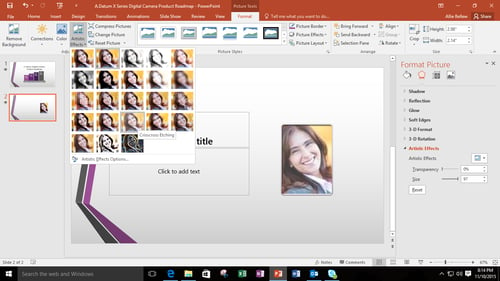 Now you don't need to be Picasso to feel creative. You just need to add a little effect and your presentation will shine.