In a way, every Microsoft 365 app is designed to improve your productivity. From the signature desktop apps—Word, PowerPoint, and Excel—to the newer additions like Teams, just about everything provides tools for you to work more efficiently and effectively.
But as the workplace continues to evolve and change, so do the challenges we face—which is why Microsoft is constantly updating its existing apps and introducing new ones. If you haven't checked your Microsoft 365 homepage recently, you might be surprised at all the apps available to you.
For example, if you're not familiar with Sticky Notes, To Do, and MyAnalytics, you're in for a treat. Each app has handy features that can help you regain control of your workday. But enough talk: here's how to use Microsoft 365 for better personal productivity.
Sticky Notes
If you're the kind of person whose workspace is covered in Post-It Notes, this is the app for you. Sticky Notes is just what it sounds like: straightforward digital squares where you can jot down ideas, reminders, lists—any thoughts you need to solidify by writing them down.
Beyond Sticky Notes' basic text formatting capabilities, you can also insert bulleted lists and pictures into your notes-to-self. Handy features, perhaps, but what's the big deal?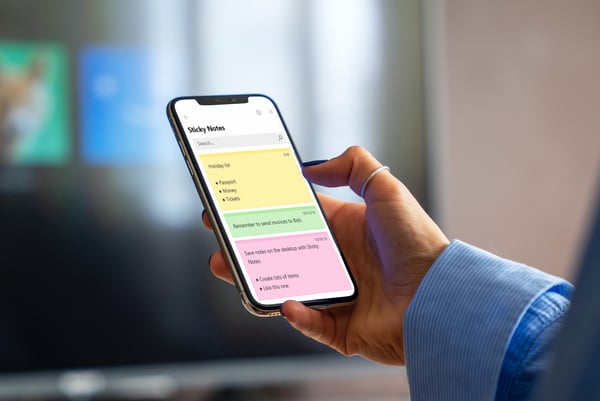 For one thing, if you sign into Sticky Notes with your Microsoft 365 account, you can access your notes on other devices, including your phone. Never worry about leaving a note behind at the office again!
What's more, Sticky Notes are more sophisticated than they look. Thanks to a boost from AI, you can insert a phone number—and then make a Teams call with a single click. Or jot down an address, then click it to pull up directions in the Maps app. Or click an email address to pull up a message directed to that person. And if you have a Microsoft Surface or other touch-enabled Windows device, you can add handwritten notes and sketches as well.
Jot down info during calls or conversations
Keep phone numbers and addresses handy for upcoming meetings
Access handwritten notes on the go
All in all, Sticky Notes is a simple app but an effective one.
To Do
Here's another app with a straightforward name: Microsoft To Do, which keeps track of your tasks. But this is no mere list-making tool. (If that's all you were looking for, a piece of paper would suffice.) To Do includes several features that help you stay on top of your personal and professional workload.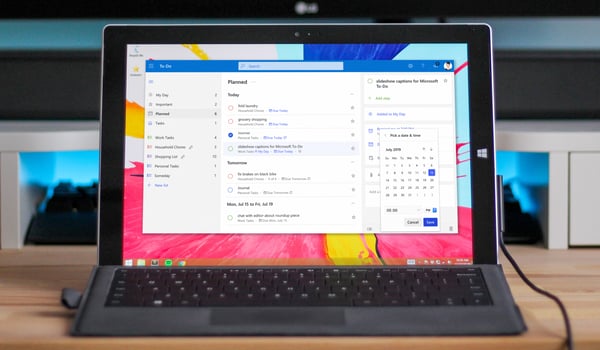 First, there's To Do's simple, user-friendly interface. When an action item comes up, manually adding a task couldn't be simpler. Or have To Do automatically create tasks from emails you flag and from tasks assigned to you in Microsoft Planner.
Pro tip—keep up with your tasks by using To Do's premade lists: My Day (tasks that are due today), Important, Planned (all tasks with due dates), Assigned to you, Flagged email, and a general Tasks list. Or create your own to sort items by priority, days of the week, client—whatever works for you.
Best of all, To Do is with you wherever you go. Access and edit your lists via the desktop app, online app, or mobile app so you never forget your grocery list at home or the office. Better yet, share your grocery list with a spouse or roommate so they can add items or volunteer to run to the store for you.
Stay on top of personal and professional goals
Break down projects into manageable tasks and subtasks
Coordinate with coworkers and others
Basically, To Do keeps your tasks front and center, helping you stay on track and preventing things from falling through the cracks.
MyAnalytics
Have you ever reached the end of the day and wondered where all the time went? Well, My Analytics can answer that question.
MyAnalytics uses artificial intelligence to recognize patterns in your Outlook inbox, schedule, working hours, and Teams activity. Then it highlights four areas where you can improve.
The Focus area compares your collaboration time—time spent in meetings, chats, calls, etc.—with uninterrupted focus time. If your focus time is out of balance, MyAnalytics gives specific suggestions for restructuring your workweek so you can get stuff done.
The Wellbeing area also consults your schedule but focuses on your work-life balance—specifically, time spent working outside your designated work hours (usually 8 am to 5 pm, Monday through Friday). To help restore a little more balance to your life, MyAnalytics offers ideas for incorporating more Quiet Days into your schedule.
Next, the Networking area examines who you work with (via email, Teams, meetings, etc.), when you interacted with them, and for how long. Why? To encourage you to get to know more people in your organization and leverage your connections to find new ideas and resources.
Finally, the Collaboration area focuses on how you're working with others. Specifically, it looks for red flags in your meeting schedule: missing attendees, late starts, overlapping meetings, etc. It also tracks how and when you're connecting with others throughout the workday so you can recognize patterns and streamline your workflow.
Improve work habits
Identify timewasters and inefficiencies
Create more focus time in your schedule
No need to worry about other people accessing these private insights into your life—you're the only one who sees your MyAnalytics data. But you may be surprised by what you learn about yourself!
What's Next?
When it comes to personal productivity, these three apps are just the tip of the iceberg. Every Microsoft 365 app has its tricks and tips to help you work smarter.
But if the idea of doing an in-depth study of all your apps is overwhelming, don't sweat it. We've already done all the work and published it on our learning platform, QuickHelp. Click here to see for yourself how QuickHelp can help you build the skills you need to do your job.
Or check out the rest of this blog series to learn how to use Microsoft 365 for better collaboration, better team productivity, better communication, and more business power.