When your organization uses Slack to communicate and work together, everyone has a great thing going. Slack's a one-stop shop that meets the communication needs of your entire organization.
Think about it. In Slack, your team can stay connected in real-time about projects and tasks, receive company announcements right in their workspace, even hold live meetings to check in every week. And avoid tedious methods of communication like phone calls or email.
But until Slack Connect came along, Slack was just a place for internal teamwork— a lively, chat-based workspace for folks under the same organizational umbrella. In the past, you couldn't work with those outside your organization in Slack unless you invited them to see your entire workspace—not a great move for organizational security.
So, if the Marketing team was ready to start collaborating with an ad agency or the sales reps were contacting potential customers, they had to resort to some other less-secure, less integrated communication method. And since they had to hop off Slack to start those external communications, they missed out on the connectedness of the working hub.
With Connect, there's no more floundering to find a way to communicate with external partners. Instead, invite your external partner to a separate, secure channel where your teams can collaborate and meet right in Slack— without compromising on the security of your current workspace.
Start connecting where you're comfortable
Kami Richey of Fastly described the comfortable integration this way:
"We hear back from our customers that we're like an extension of their team, and part of that feeling definitely comes from the fact that we use Slack."
Here's how that integrated experience works: when you start using Slack Connect to loop in an external partner, you'll set up a cross-organization channel that will appear in both organizations' Slack workspaces. You and your partner have the same access and can start communicating just as you would with teammates at your org.
Setting up a Slack Connect channel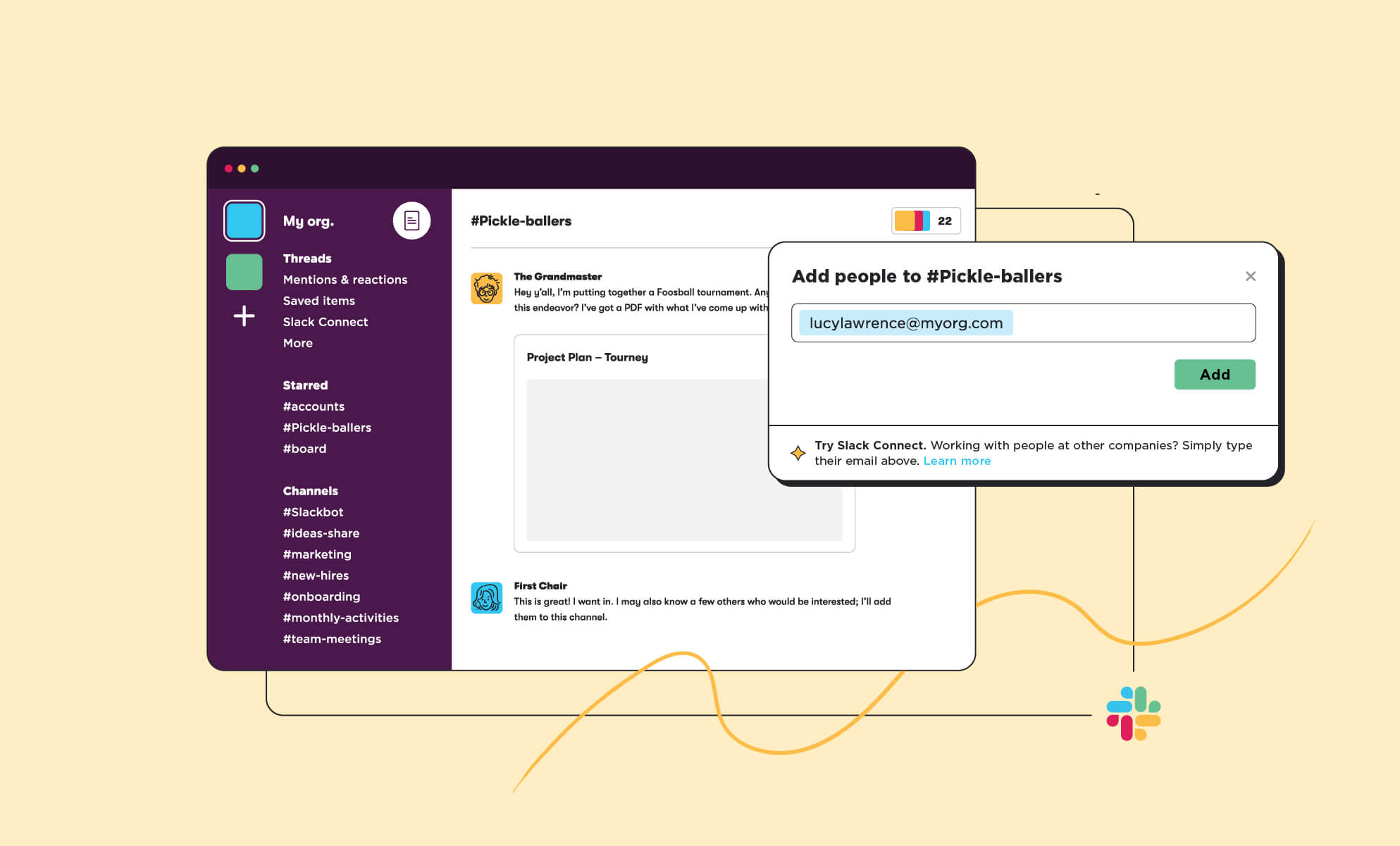 Setting up a shared channel is a breeze—like setting up a regular channel within your workspace, but with a little more authentication so you and your partner are secure.
To begin, first create the channel in your Slack workspace where you plan to collaborate with your external contact. You need to be on a paid Slack plan to use Slack Connect, so check your organization's settings before getting started.
After creating the channel, customize your privacy settings, and then send invitations to your external partners. Note: collaborators don't need a paid version of Slack to work with you in Connect.
Once your external partner opens your invitation, they'll be prompted to set up the channel in their workspace— or if they're new to Slack, they can open a free account or start a 90-day trial.
For extra security, the invitation will be sent to an administrator on both ends to approve the connection. When it's confirmed, you're ready to start collaborating!
The pros of chat-first communication

Now that you've set up a shared channel for communication with your external partner, you can chat and collaborate with the same speed you'd use internally.
Kate Sterne of Box described the benefits this way:
"With Slack, our speed to lead is much faster. You still get lots of notifications, but instead of showing up as thousands of emails in your inbox, it just shows up as a red dot on your Slackbot."
Additionally, Slack's integrated external communication channels make collaboration across organizations a lot easier. For example, a user might hop directly from an internal Marketing channel to the Connect channel that's set up with an external ad agency. It's that easy to welcome partners into a collaborative— and swift—conversation.
An easier way to prioritize security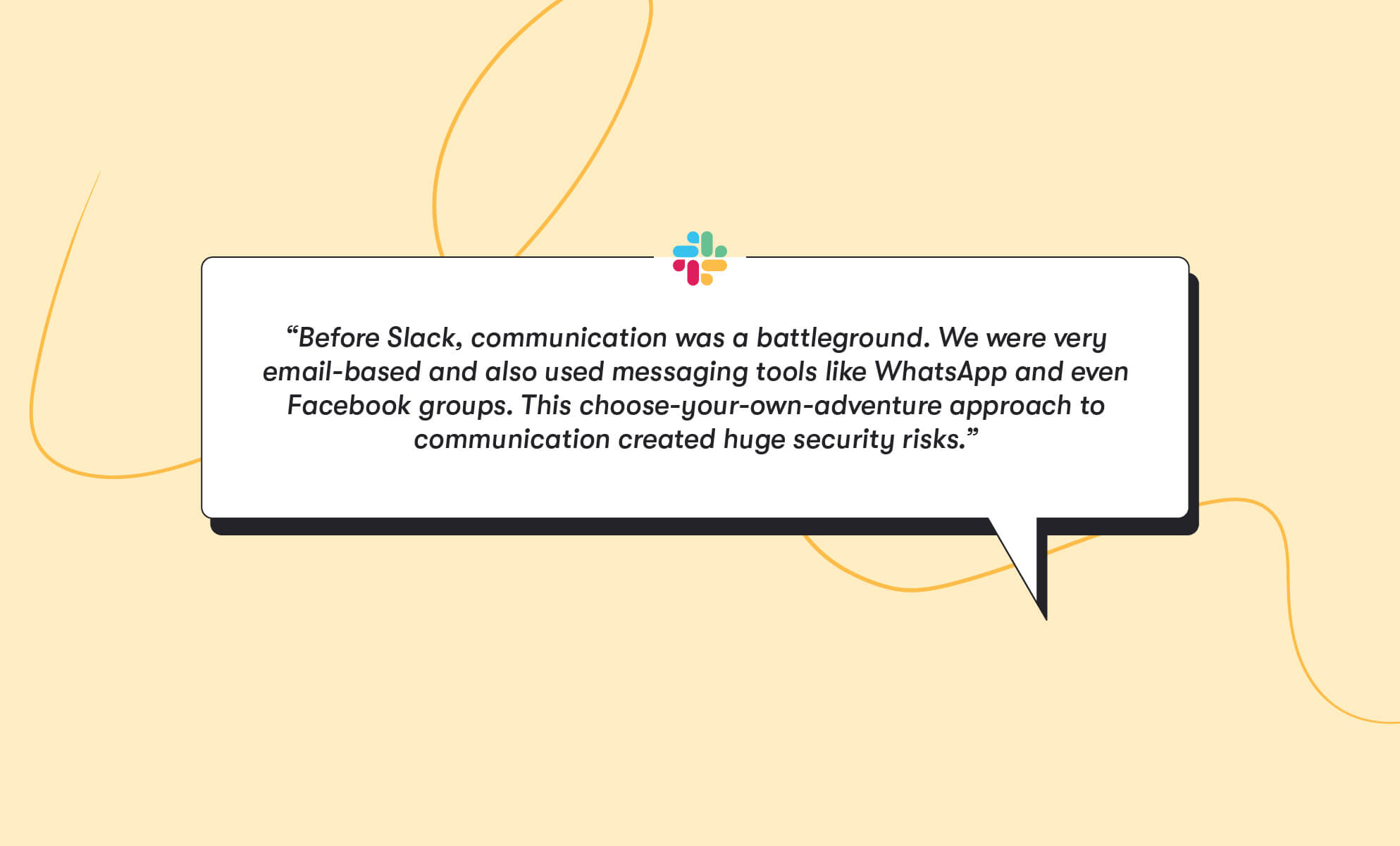 Centralizing external communication also benefits the security of everyone involved, because Slack isn't subject to common phishing tactics and scams (that happen oh-so-often via less secure technologies like email or telephone).
Ty Sybano of Sisense pointed out the security risks his company faced before Slack:
"Before Slack, communication was a battleground. We were very email-based and also used messaging tools like WhatsApp and even Facebook groups. This choose-your-own-adventure approach to communication created huge security risks."
Clearly, these kinds of compliance standards and security features meet the needs of enterprises all over the world. Not only can administrators retain control over channels, but they can also control all communication invitations and activity, including the ability to monitor behavior and remove connections if necessary.
As for users, they retain control over who can message them individually and who can send them email invitations via Slack. All this adds an extra layer of security.
How Slack Connect can serve your team—and external partners
In the final analysis, using Connect helps integrate your external communications into the Slack workspace you know and love. No more leaving your working hub to communicate with an outside collaborator.
Best of all, these benefits aren't just for your team alone, but for your collaborator as well. And in a platform that doesn't skimp on security features, you can both rest assured that your connections are reliable, admin-managed, and safe. What's not to love?
---
Wondering how Slack Connect can foster state-of-the-art collaboration for you and your partners? Check out BrainStorm's Slack software adoption pack.