This post is part of our Tech Tools Employees Love series. If you missed them, check out our previous posts on A people manager's perspective and Tech tools for transitioning to a new role.
First day jitters: we've all been there. New jobs can be both overwhelming and exciting. It takes time to learn the ropes, build new skills, get to know teammates, and wear off that "newbie" status.
Tech tools can make the onboarding process easier—or harder. Having enough technology isn't generally a problem; the trick is knowing how to use the many tools you have and how those apps work together. Not to mention learning about other new hire responsibilities.
New hires talk tech tools and onboarding
We asked some of BrainStorm's new recruits about their technology onboarding experience. Our panel members—Joseph, Laura, Marie K., Marie P., Richard, Tess, and Troy—come from a wide range of job roles, skills, and backgrounds. But there's one thing they all recommend: BrainStorm QuickHelp.
More on that later. Here's what else we found out.
Is your new position like your previous position?
Joseph (account development): Previously, I was working as a director of communications for a small non-profit organization and now I'm in a largely marketing-centered role, so it's a decent paradigm shift.
Laura (learning experience): I used to work with different software to design courses as a finished product, whereas now I design them in OneNote and then other people create the final assets.
Marie K. (services advisor): My new position is very different. I was an elementary school teacher (6th grade). My day mainly consisted of planning, presenting, and delivering instruction, and then analyzing data to determine whether I was successful in reaching my students and adjusting accordingly.
Marie P. (recruiting): Previously, I was a pediatric development screening clinic coordinator. I conducted screenings and then placed the patient with the appropriate provider for care.
Richard (account development): This position is very similar to my last position which was medical device sales. Same type of work ethic—a self-starter job where I am making calls and trying to connect with the right person.
Tess (customer success): Yes, this position is like my previous position.
Troy (channel marketing): My work is very similar to work I've done in the past, but for an entirely new industry. I worked in a healthcare/finance company previously so learning the SaaS industry has been a new challenge. I really enjoy it!
How has previous work experience helped during your transition?
Joseph: A few things carry over; for example, composition of emails, broad advertising initiatives, trying to hone a brand image and voice. All of these are skills that I developed previously.
Laura: I used to work in the Google Suite when I was in education but had to switch to Office 365 when I went into business.
Marie K: I like that I still get to work with clients on diagnosing training needs and helping them customize a curriculum that will be a good fit for their users. My experience as a teacher has also made me comfortable learning new technologies, applications, and so on.
Marie P: My previous work experience gave me a helpful advantage in my new role at BrainStorm. I did a lot of scheduling, I needed to be prompt and mindful of others' schedules and time commitments, accuracy was crucial, and I was required to learn a specific software.
Richard: Mostly like with any sales job; just keeping my head down and completing calls. The work I am doing today will help me meet with more prospects in the future.
Tess: Being familiar with the Microsoft suite and environment (especially Teams) has helped immensely both internally with our processes, but also externally when discussing clients' Microsoft-focused initiatives.
Troy: Prior work experience has definitely helped as I've transitioned into my role at BrainStorm. I can take a lot of the strategies and tactics we developed with my previous team to guide our conversations and come up with good plans for how to work with partners.
What software tools are new to you in this new job?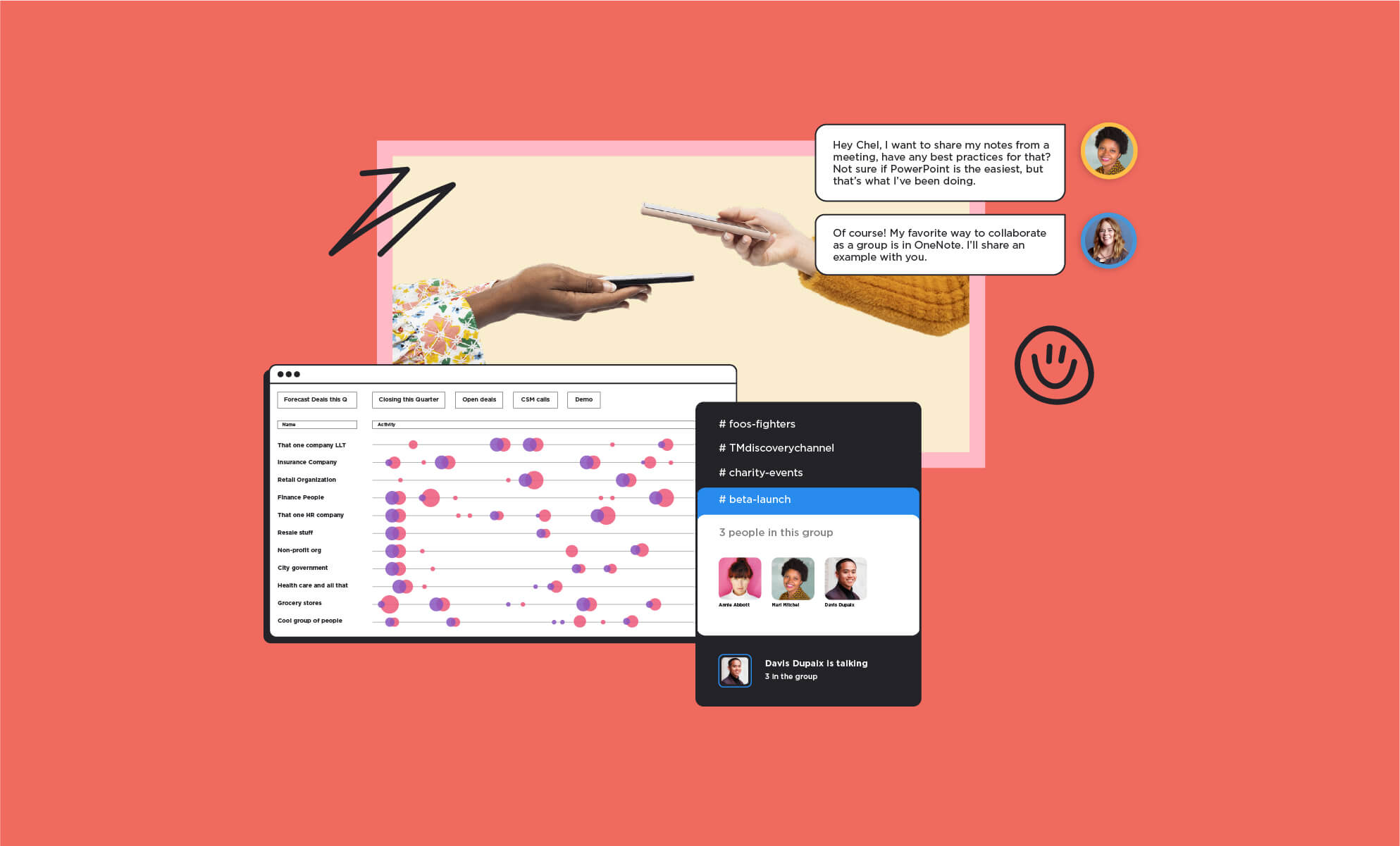 Joseph: Everything Microsoft! I've always been a Google man myself, so Teams, Outlook, the calendar sharing, I'm still not sure what a SharePoint is … but I'm learning.
Laura: I used to work on a Mac, but now I work on a PC. I feel like overall I've had to adjust to using Microsoft products more fully, and I've been surprised to find different features that I never knew Microsoft products had.
Marie K: Microsoft Teams, SharePoint, OneDrive, Outlook, Dynamics (CRM), and other Microsoft applications beyond Word, PowerPoint, and Excel were all new to me.
Marie P: I have not previously used many Microsoft programs other than Word, Excel, and PowerPoint.
Richard: Well, this is my first time using the Microsoft Suite in a work environment, so most of the collaboration apps like Teams and Outlook are very new to me. But I love them so far and how easy they make my job!
Tess: BrainStorm QuickHelp, Gong, Calendly, Namely, TripActions, and Zoom.
Troy: QuickHelp (BrainStorm's learning platform) and Wrike are both new to me. I have previously used most of the other tools I have at my disposal.
What has helped you most while onboarding to your new software tools?
Joseph: Honestly, I think the thing that is helping the most is just using each tool. Whenever there are new processes or software, it just helps to explore and figure it out.
Marie K: Support from team members and my manager, my familiarity with Google products and other applications that performed similar functions, and the opportunity to spend time with one of our trainers in a productivity coaching session.
Marie P: BrainStorm QuickHelp has been useful, along with simply getting into the software and becoming accustomed to it as I go along.
Richard: QuickHelp has helped me manage the learning curves of the Microsoft suite. I love the wide range of videos and digestible content about each application that help me get the most out of my software.
Tess: QuickHelp! Duh.
Troy: QuickHelp is pretty intuitive, and the team has been good at offering their assistance learning Wrike. We've made some big changes across the team with Wrike recently, so we've all been learning together.
NOTE: As you can see, our panel uniformly references two key things: First, use QuickHelp (BrainStorm's change and adoption platform) for bite-sized training videos, personalized to the job tasks of each team member. Secondly, panel members advise other new hires to simply ask for help. That's solid advice for anyone in any role. Marie K. put it this way: "Reach out to the people around you. Something that could take them two minutes to show you could end up saving you 20 minutes a day."
For additional tech insights and productivity tips, subscribe to the BrainStorm blog so you don't miss a thing.
On an ideal day in your new role, what would you most like to focus on?

Joseph: I think on an ideal day, I would love to come up with new strategies and tools for the ADM team and others in marketing—to better connect with other businesses and customers. Just to see what works and what doesn't, and to explore new ideas.
Marie K: Ideally, my focus would ensure that services are planned and executed successfully. Our goals are to increase software usage and a change of behavior in end users. My role supports getting users engaged with the BrainStorm platform and taking ownership of their own change journey.
Marie P: Being able to complete tasks from start to finish.
Richard: Making calls and sending emails so I can set up product demos! Other than that, I just want to make sure I stay organized. There is always a lot to do and it's easy to forget or miss something if I don't.
Tess: Unique strategies to alleviate clients' pain points. That and collaborating with my team(s).
Troy: Ideally, I'd like to focus on building stronger relationships with our selling partners. Digging into what drives them, and how we can empower them to be successful by leveraging BrainStorm.
What energy drains and timewasters keep you from more worthwhile activities?
Joseph: I'd say that one is the inability to find the documents or emails that I need. I sometimes spend 10 or 15 minutes searching through stuff to find what I'm looking for.
Marie K: I think that the biggest drain on productivity is trying to tackle too many things at once. For me, this leads to task hopping, where I'm not actually accomplishing much, and I make myself overwhelmed by trying to take on everything and getting nowhere.
Marie P: Initially, as I was learning the software and external programs, I felt less efficient with my time.
Richard: I feel focused on work most of the time. There are distractions, but I wouldn't call them timewasters. One of the things I love are the activities we have at work such as massage chairs, ping pong, and cornhole. If I am stressed, those are great ways to relax and have a little fun.
Tess: Figuring out the best ways to extract data and provide relevant points to build success stories for our clients (ie. PivotTables).
Troy: I don't have a lot of timewasters getting in my way so far.
What tools help you minimize or eliminate less important activities?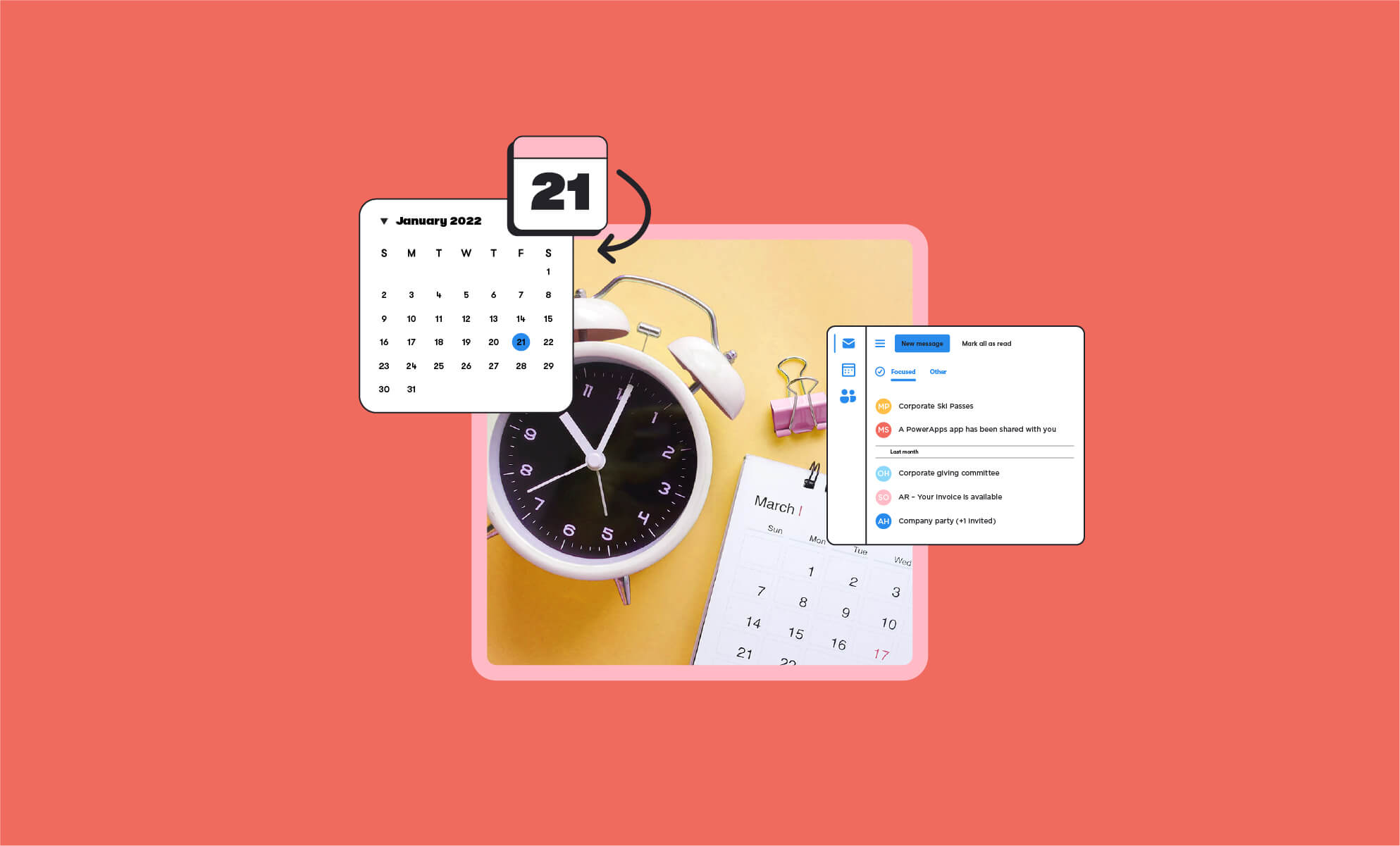 Laura: I've really liked using Microsoft Planner and To Do to organize my tasks. In my last job, I just kept a running document with things to do and remember. It got messy really fast, and it was hard to keep track of everything.
Marie K: I like scheduling focus time on my calendar for specific tasks. Planning for the day (whether digital or analog) really helps me to stay focused on the tasks of highest priority. I also love using Microsoft OneNote and Tasks.
Marie P: Outlook Calendar, keeping a spreadsheet of my current projects, prioritizing my work each day, and having clear communication with my team.
Richard: To Do has helped me prioritize my day for sure—which also helps me understand what is important day to day.
Tess: CRM helps a bunch with keeping my client/strategy notes organized in a consolidated space, rather than hopping around to different areas to try and play catch-up with where my new clients are at in their journey.
Troy: I like the To Do app, and the way we've set Wrike up is effective at helping the entire team prioritize. I expect that will become even more efficient moving forward.
How else has software streamlined your workflow?
Joseph: One of my favorite things in Microsoft is the utility between the To-do list, Teams, and Outlook. The ability to flag an email that I need to follow up with and adding it to my To-dos is so incredibly convenient.
Marie K: I have a great organization system set up in my OneNote. My team also keeps all our main processes in a shared OneNote which is so helpful. Teams chat is the fastest way to quickly communicate and share information internally and with other departments and roles.
Marie P: I've set up a system that I use every day to keep track of daily tasks and that has streamlined my work.
Richard: Using Outlook has made working in my role so easy; I can look at someone's availability for a meeting without leaving my email application. That just helps me save a little more time and I am able to be more productive.
Tess: How hasn't it? I have enough foundational knowledge of a majority of the tools that we utilize to the point where I can [autonomously] find the best workflow solution that uniquely fits my style of organization.
Troy: Using To Do and Teams makes focusing and collaborating a lot easier. Sometimes I'll get pulled in a few directions at once, and it's nice to be able to quickly reset my mindset to the tasks at-hand.
What shortcuts, tips, or recent discoveries are you most excited about?
Marie K: I love the 'today' view in Outlook that shows me my tasks and calendar. I can start there rather than just diving straight into emails and getting distracted from my focus of the day. I also love the option to insert meeting details into OneNote. That's so convenient!
Richard: I love To Do and Outlook. I love the integration with Teams and how notifications come through on all my devices—it helps keep me on track! I have used those apps not just for work but in my life as well. Especially To Do because I can set recurring reminders each day.
Tess: Gong is a game-changer, especially with onboarding. Not only can I learn from my fellow CSMs' client calls, but I can also watch my own client calls/previous calls—and gather context on my clients as well as be more present in the call. And I can take notes later, after I watch the recording.
Troy: I did some training recently and discovered some cool ways to manage tasks (including To Do).
Do you have any advice for overwhelmed new hires on how they can learn to use their tools?
Joseph: I think that BrainStorm QuickHelp videos can be super useful to get the basic run downs. But more than that, ask your team! I guarantee that around you are people that can use the tech and can teach you what is relevant and helpful to your role.
Laura: Take it one tool at a time and one step at a time. Ask your coworkers what they do and try out their suggestions. Don't be afraid to try something new or stop doing something if it doesn't work for you. Invest some time to create your own personal workflow, to save time later.
Marie K: Be patient with yourself and don't expect to learn everything overnight; it will take time to learn. Even people who have a lot of technical experience learn more efficient ways of doing things every day. Also, reach out to the people around you.
Marie P: Don't be afraid to ask for help or think you're burdening others. Take time to be familiar with the software, even if it takes a few tries. Use QuickHelp to learn new skills and answer questions. Be patient with yourself and you'll get used to the technology.
Richard: My best advice for new hires that are overwhelmed is to use QuickHelp and ask your team. Someone will have some advice and tips to help you feel more confident!
Tess: QuickHelp is wonderful, but also leaning on my peers has been unmatched - everyone is so willing to help and has been so welcoming!
Troy: Ask your teammates if there is a better way to do something. Most of them have good ideas, and it can make a big difference!
---
These new hires recently made the switch to BrainStorm. Check out our careers page to find the change you've been waiting for and use QuickHelp to make the most of your tech.