Here's a secret...
Your new software is only as good as the business need it fits. So, if your users are slow to adopt new technology — it may be time to train them on why they need it. Help them to see how their job will get better, as a result of the software. Show them how much it'll save them.
You can do this.
I'm about to show you how.
"Training" vs. real software training
Let's get started.
In-depth training creates confidence. In fact, high-quality software training gives you a measurable ROI. So, let's talk about what training should, and should not be.
It shouldn't be:
Text-packed PowerPoint slides.
A link to the user's guide for new software.
Only offered at onboarding, and not for existing employees.
Rather, software training should offer:
A customizable approach.
Targeted, and metrics-driven support.
Ongoing training and quantifiable results.
Here's a thought.
When investing in a new software or technology solution, you may need help. Consider having a training provider who understands your objectives and challenges. That partner can help you push past resistance and ensure you see the full value of the new tool.
What's that worth to you?
Great question.
Let's talk about ROI.
Maximize the ROI in your software training
ROI is all about value.
That's right. There are two parts to ROI: return and investment. Your return is the value you get. So, whether you're moving messaging Yammer, switching email to Outlook, or transitioning to SharePoint — you'll want quality software training.
That's how you impact user productivity.
Get it with these 6 steps.
1. Give change a chance.
News flash...no one likes change.
Unless it's their idea. Here's the truth. Your team will embrace change if they're invested in it. So, help them to do that. Here are a few ways to get them amped up about your software.
Encourage adoption with early adopter prizes.
Introduce fun and friendly competition with gamification.
Implement a champion program by recruiting someone to model the right behavior.
Why do these things matter?
Simple.
They lead to software adoption.
See, each approach helps your users to feel like they're choosing to adopt the software, on their own. Not being forced to make a change. Now, that's a much better mindset.
There's more...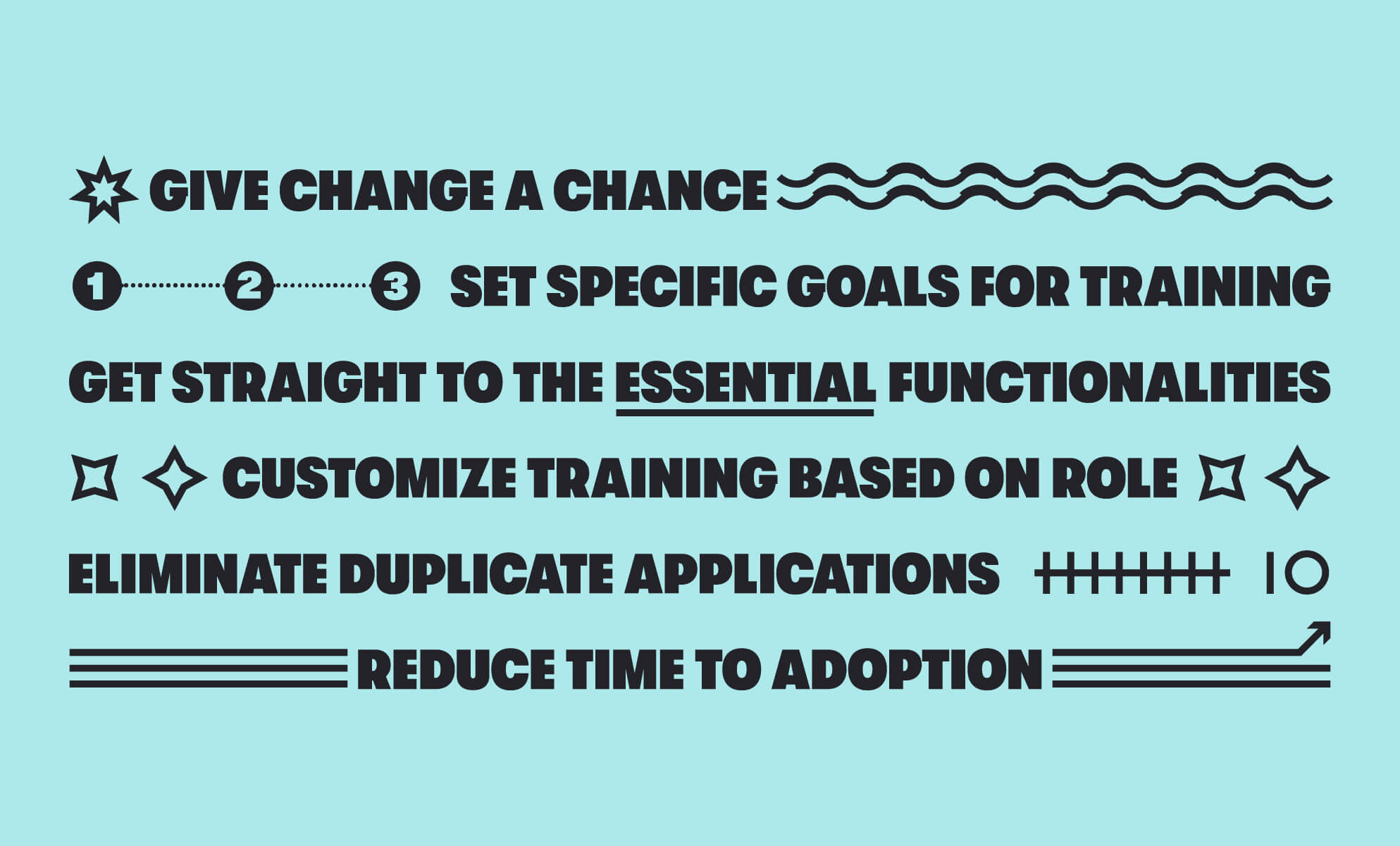 2. Set specific goals.
Get specific.
You want to drive change. That's not easy. So, don't just announce a key business objective. Instead, move the ROI needle by calling out specific goals and metrics you want to hit.
It's easy.
I'll show you.

Let's say you're struggling to get people to adopt Microsoft Teams. Instead of saying they should to it because it increases productivity, try this: "I want to increase productivity 14% by Q1 2022."
See that?
It's Specific, Measurable, Achievable, Relevant, and Time-Bound.
Now, that's SMART 😉
3. Focus on essentials.
Time is precious.
So, use it wisely. On average, your users can spare about 5 minutes a day for training. Maximize that small window for ROI. Help them to learn the features that directly impact their revenue, client satisfaction, and employee productivity.
And ... you'll create believers.
Next, prioritize the content they need, then share it. Use a sustainable approach to consistently demonstrate value from the software, for their role(s). Then, measure their productivity, and show it to them. See exactly how they're performing to your goals.
4. Customize your training.
You're different.
We all are. Fact is, everyone wants to be treated, like an individual. They expect a high degree of personalization. So, when it comes to learning new technology, help them to feel heard. Consider, for example — how an executive will learn, vs. an engineer. Then, adjust.
Think about investing in a training solution that will help you round out the right digital employee experience. Make software training that's personalized to their role. After all, when each person has the right features to do their job, you'll see a massive impact on ROI.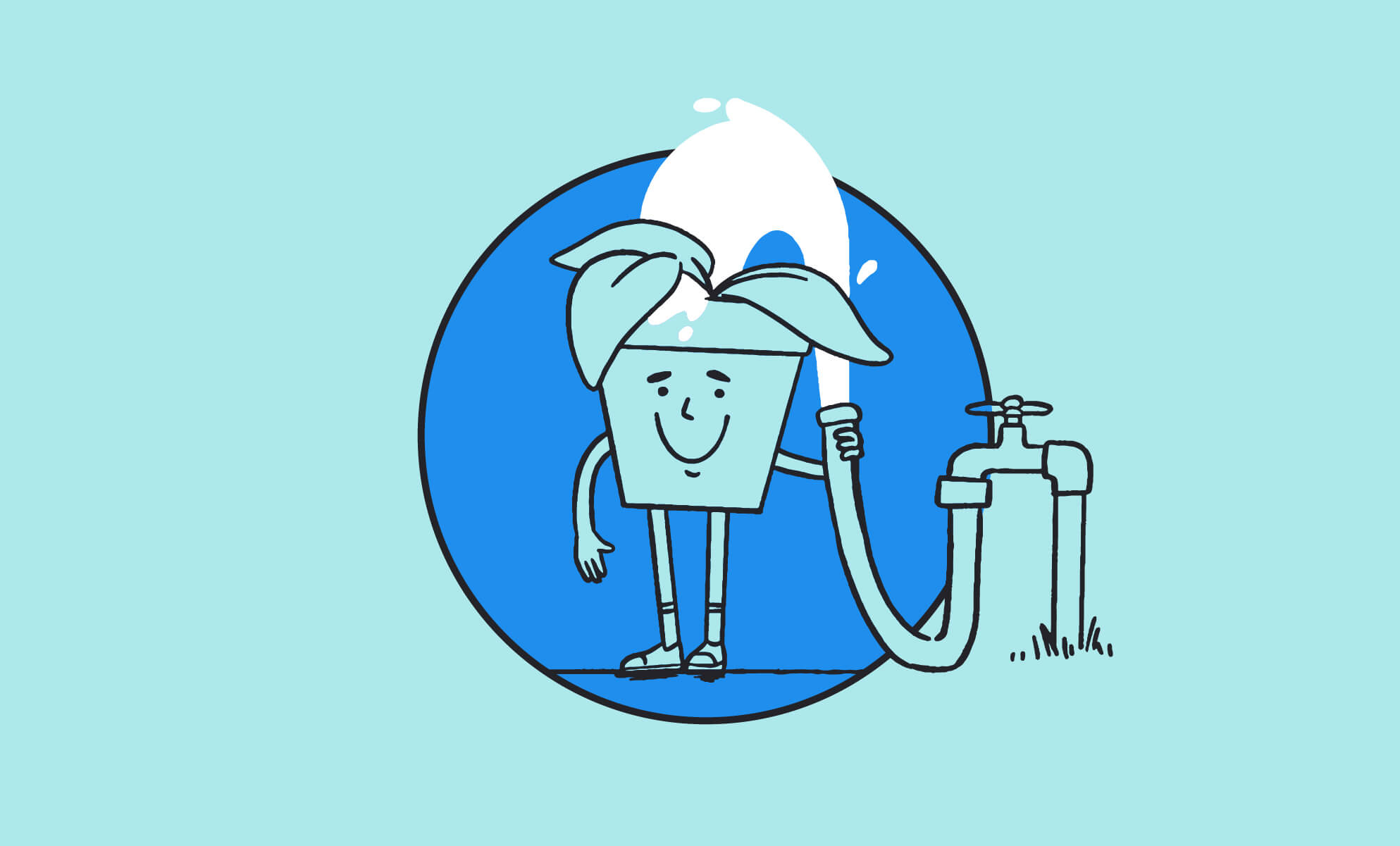 5. Eliminate duplicates.
Cut the waste.
You don't need too many tools. In fact, if you streamline your software, you'll find it's a lot easier to get everyone on board; using it to the fullest. So, look around. Find the features that may be duplicative in each tool.
Eliminate what you don't need.
And, empower your users. Effective software training will help them embrace the new tech quickly. The best part? You'll save money. That's right, by reducing the software they're not really using and doubling down on what they need, you'll create efficiency and savings.
Now, that's an ROI.
Not only are you saving money; you actually reduce waste too — return and investment.
6. Reduce adoption times.
Time is short.
So, make it count. You don't have months to spend migrating from one training tool to another. Try a psychology-based approach to training instead — use short tutorials and machine learning — to reduce your time to adoption.
Nice.
You increase knowledge, personalize learning, and speed up time-to-launch ... in a few simple steps. Now, that's worth celebrating.
Ready to get started?