It can be hard to know if you need to take the plunge on software training. And with so many available programs, Microsoft SharePoint training might not be on your radar.
For newbies, SharePoint online is Microsoft's large-scale file storage and collaboration tool—and it runs in the background of many additional Microsoft 365 apps. Organizations commonly use SharePoint to broadcast news and information, serve as a file storage and sharing site, and manage permissions.
Maybe you're already familiar with SharePoint—but what about the average user in your organization?
Getting everyone up to speed can pay big dividends, since every user can collaborate more efficiently and your org can get more out of your Microsoft spend. Bottom line: the more independent your users are, the less you're needed to explain, fix or put out fires. You can have more time to get your work done.
Those benefits – efficiency, collaboration, increased software ROI—sound great. So, where do you go from here?
Check out this simple flow chart for a visual overview.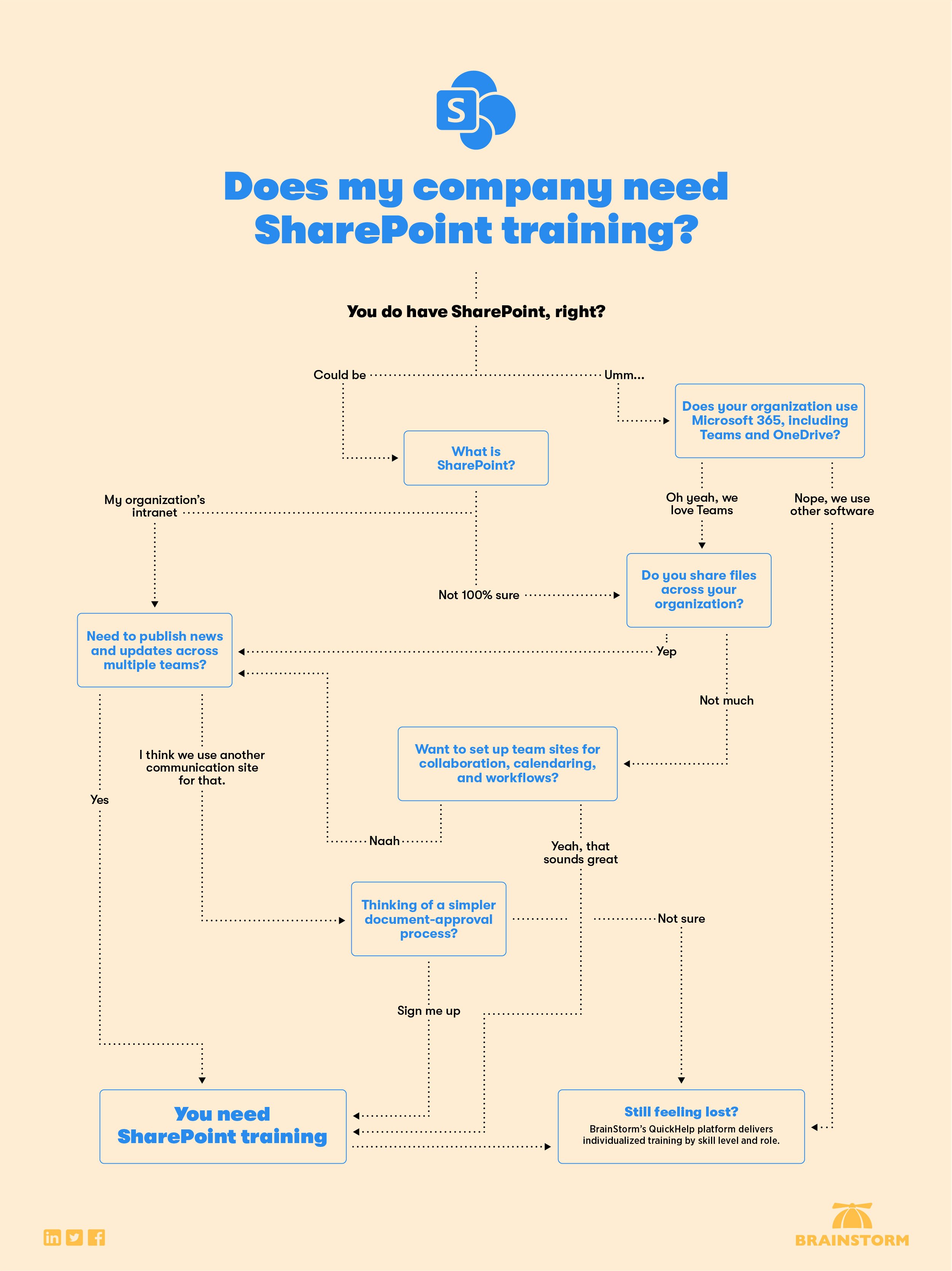 Still clear as mud? Stay with us.
First, consider creating a SharePoint champions program in your organization. Then, start training with the basics and work your way up to more in-depth how tos. Check out our tips below for beginning, intermediate, and advanced SharePoint training.
It's a given that user-specific training in bite-sized portions will be most effective and engaging to users. What software do users need for their role? How much experience do they already have?
Here's how to learn more about a plug-and-play training solution.
Get some SharePoint champions on board
To get started, does your organization have a designated SharePoint expert? Some companies hire SharePoint Developers to design custom Microsoft 365 solutions. Or, chances are good that you have more than one SharePoint enthusiast in your organization. If you're an IT manager, maybe that's YOU.
Start your champions program by identifying these SharePoint enthusiasts. Recruiting their help as champions is a no-brainer.
Of course, you also need to ensure these experts are willing to be a SharePoint champion. Remember to ask your SharePoint fans if they'd be comfortable taking questions from colleagues, sharing features they're excited about—or even facilitating a group training now and then.
Final point. Remember to let your employees know who they can ask for SharePoint help. At every training, remind your employees who your in-house SharePoint experts are.
Start with the basics
Because SharePoint is customizable, it can seem complex—especially when organizations use it to create large intranet sites. Then there's the fact that every user can have a unique SharePoint experience that's based on permissions, groups, and activity history.
To build a foundation of understanding around SharePoint, try these topics:
Which tool when

. Lay the groundwork around when to use SharePoint compared to OneDrive and Teams. For example, when should (or shouldn't) your users store files in SharePoint?
SharePoint jargon. Share a glossary of SharePoint terms with your users. Start with basics like library, list, command bar, metadata, web part, and hub site.
Organization. Use a visual to explain SharePoint's inner workings, like the hierarchy of hub sites vs team and communication sites.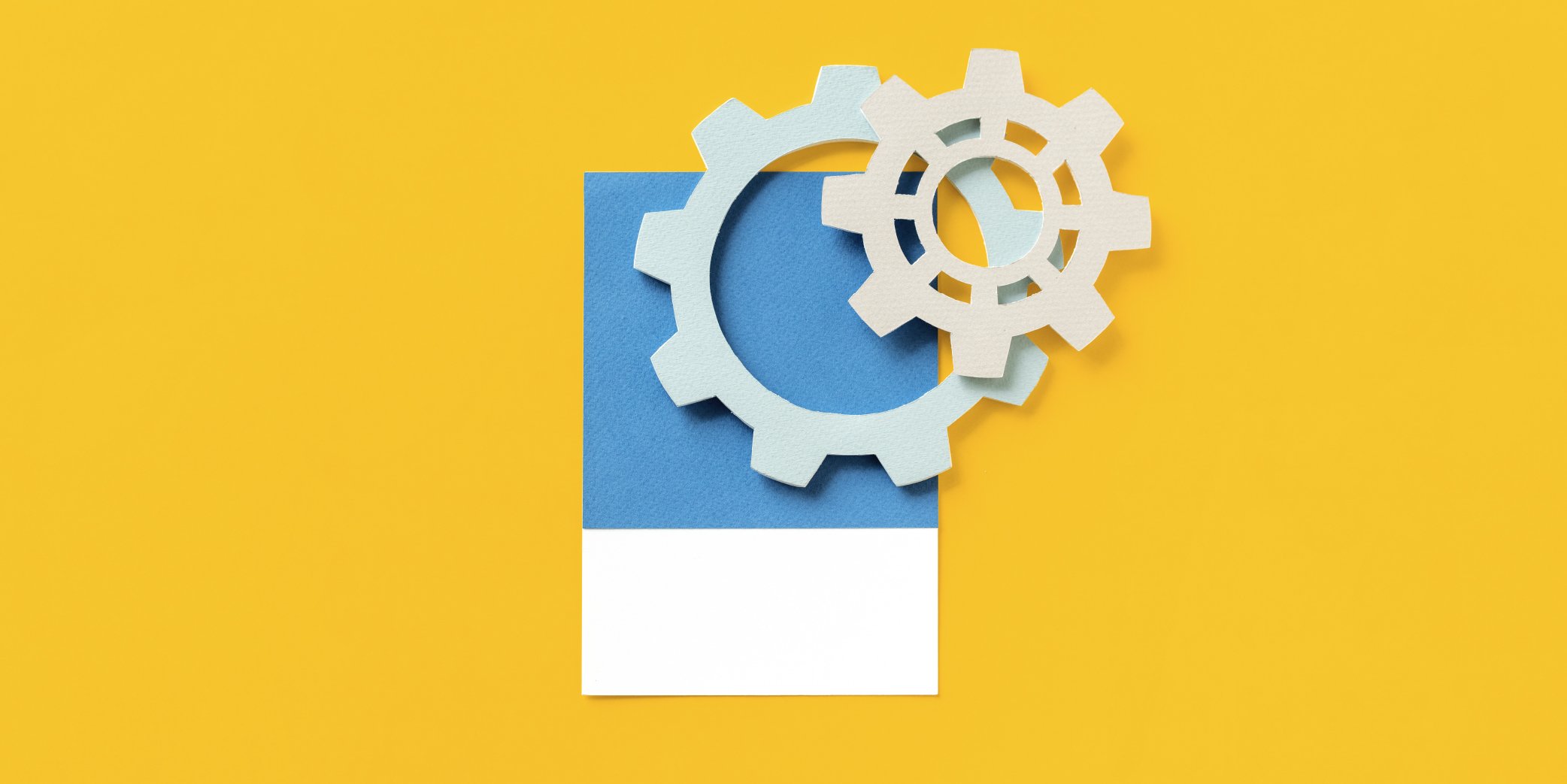 Each of the above topics covers plenty of ground, so you may need a separate training session on each. Consider hosting a series of lunch and learn events that cover your chosen topic—or send out a related article once a week to keep people engaged. No matter your strategy, a little reminder goes a long way.
Focus on SharePoint use cases
Once your users know what you're talking about when you say "SharePoint", then you can move on to specific use cases. How will SharePoint effectively improve company workflow? Consider:
Team document storage
Work with lists and libraries
Open and edit documents
Sharing sites and documents (include security and compliance awareness)
Follow sites or documents
Document approvals
Use Power Automate to set up workflows
Create a WikiSite
Grow your social/culture hub
Schedule with a team calendar
Search for your sites, files, and resources
Use a OneNote notebook shared with everyone else in a Team site
Find and share intra-department resources
House resources in a central location
Post in-house newsletters and updates
Using the SharePoint mobile app
Each of these topics lends itself to a clear "how-to" article or instructions. Some of them, like sharing, also require your organization's specific guidelines. Be sure to include any organizational policies around the areas you decide to focus on.
Provide advanced, role-specific training
Certainly, not all your users need to create SharePoint sites or edit pages. But many teams can benefit from having a handful of admins for their own department or team sites. Just remember that training admins can take more time than training casual SharePoint users.
That said, certain topics don't take much time to cover; they just aren't necessary for all users to know. Decide which individuals need more advanced training—including ongoing support for your champions.
Here are a few ideas for advanced SharePoint training:
Create and design a communication site
Create dedicated team sites for collaboration
Site administration, including an overview of site contents and settings
Target information to specific audiences
Design business processes for task management, document approvals, and so on
Share responsibility of site content with permissions
Designate roles to users (Creator, Contributor, or Viewer)
Now's a great time to train your organization in SharePoint online, where users can boost collaboration and improve company efficiency.
Need more help? Bring in one of our change experts for super-effective software adoption tips.