Microsoft Teams is more than just a communication tool. It truly is a platform—a productivity and collaboration hub that can transform the way you and your users work.
If you've explored Teams at all, you know it can do so much more than its predecessor, Skype, and that's largely due to one thing: the ability to connect to multiple app integrations right in Teams.
Microsoft Teams apps allow you to integrate your most-used workplace software and third-party services into Teams, pulling all your tools together into one convenient location. What's more, integrating apps into your Teams setup encourages your users to use and stay in Teams—a major adoption win.
Depending on the app, users can interact with AI-powered interactive bots, use them as personal apps, and add them to tabs in chats and team channels.
In short, app integrations really increase Teams' power and functionality, so if your organization hasn't paid attention before, now's the time. Go a step further and introduce these apps to your users. (Encouraging users to work from more third-party apps will improve your Teams ROI overall.)
Top 5 Microsoft Teams Apps
Currently inside Teams, there are over 400 apps to choose from—aside from custom PowerApps (which would dramatically expand the count). Because each app addresses specific workplace or education needs, users will have plenty to explore.
To start, we suggest the following 5 Microsoft Teams apps integrations.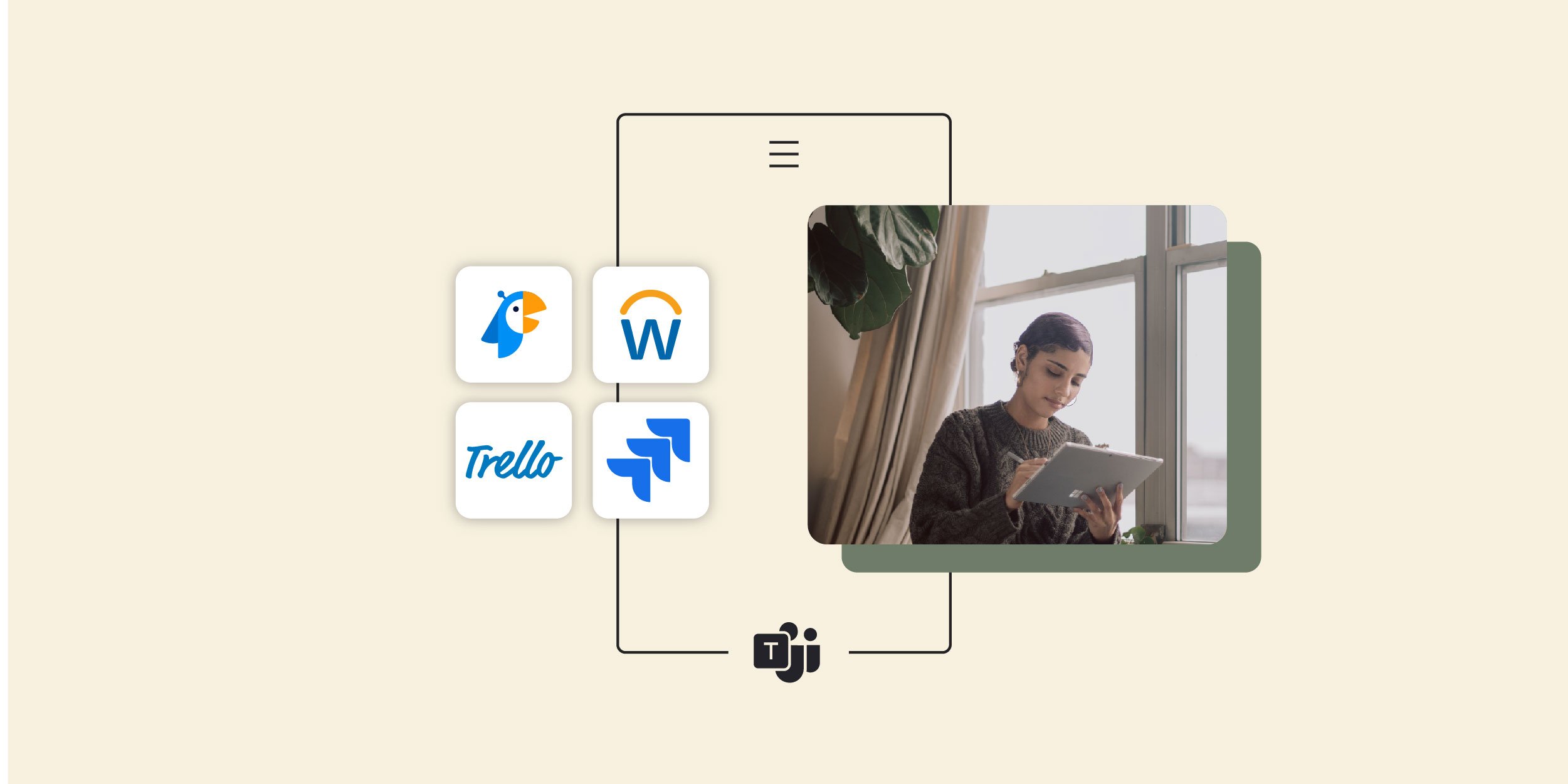 Polly
Polly is a great place to begin, especially for users who are new to the game of app integrations in Teams. Think of this particular app as an approachable—but powerful—team management tool that allows you to solicit feedback from your colleagues.
Add Polly to a channel, group conversation, or meetings for instant answers to your questions, from where the team should go to lunch to colleagues' reactions to a presentation or policy.
Not sure where to begin? Check out tried-and-proven templates for some inspiration. Want to integrate Polly into your team's scrum? Use Polly to check on team members' progress with recurring standup surveys. Need feedback on a sensitive issue? Make responses anonymous so people feel comfortable giving their honest opinion.
At the end of the day, Polly is all about gathering on-the-ground data so that your org can make more informed, data-driven decisions. And it's straightforward enough for anyone to use.
Jira Cloud
This app is a must-have for tech teams, especially if you're already using Jira Cloud outside of Teams. If you haven't heard of Jira Cloud, it's an IT management tool that covers the whole tech spectrum, from planning software developments to managing customer service.
Jira Cloud is a prime example of how well a third-party app can integrate with Teams and streamline your workflow. The bot is a handy tool for creating, assigning, watching, and editing issues, as well as for logging working time.
In channel conversations and chats, use Jira Cloud to search for existing issues and bring them to your colleagues' attention—or create new, pre-populated issues based on your messages. And in your team channel, create a tab for your project backlog to keep issues at the forefront of your conversations.
In sum, the Jira app seamlessly integrates Teams and your Jira Cloud experience to streamline your team communication and workflow.
Workday

Streamlined workflows aren't just for IT teams. The Workday app makes it easy to complete everyday HR and finance tasks without leaving Teams.
For instance—use the Workday bot to check how much time off you've accrued and schedule time off. Or, upload a picture of a receipt for reimbursement and the Workday bot will create a new expense item. Additionally, search for a colleague's Workday profile to see their role and reporting line so you can get a better grasp of your org.
Speed up your hiring process as well by using Workday to keep interview phases and candidates organized, and request feedback on candidates from each interviewer. Once you have the feedback you need, you're that much closer to making your hiring decision.
Adding Workday to Teams makes completing necessary HR and finance tasks so much more convenient, and a smoother workflow makes everyone's life easier.
Trello
On its own, Teams is pretty good at providing the communication and collaboration tools you need to get stuff done. But when you throw Trello into the mix, you take your project management to a whole new level.
Use Trello as a personal app to manage tasks (aka cards) assigned to you, a calendar of card due dates, projects (aka boards) you've accessed recently, and all boards you're a part of. Or involve Trello in your chats or channel discussions to search for cards and pull them into your conversations.
Trello is a natural fit in your team channels. Add boards as tabs to keep projects in sight and in mind—everyone can see the project's progress and add their own updates. And with the Trello connector, get automated notifications when boards and cards are updated.
Take the intangibility out of project management—map out concrete to-dos, see progress as it happens, and celebrate wins with the Trello app.
BrainStorm
On the surface, the BrainStorm QuickHelp™ app might look like a learning and training tool, but that's an oversimplification.
The BrainStorm app provides users with instant access to thousands of resources and webinars on everything from Microsoft 365 to cybersecurity. The real magic happens when users put those skills to work—collaborating more effectively, protecting themselves against cyberthreats, and making better use of their software to work more productively.
Ask the BrainStorm bot about software features and tips—and it will find relevant videos and guides just like that. Use the personal app to find answers and keep track of our QuickHelp Skill Paths, live events, and other learning assets that matter to you.
The BrainStorm app will also lighten IT teams' help desk load, streamline new hires' onboarding process, encourage software adoption, and maximize company ROI—for Teams and other software tools your company has invested in.
Seriously, BrainStorm is one Microsoft Teams app that has SO many uses. (We might be a little biased, but our enthusiasm is sincere and data based.) Check out this webinar for the full scoop.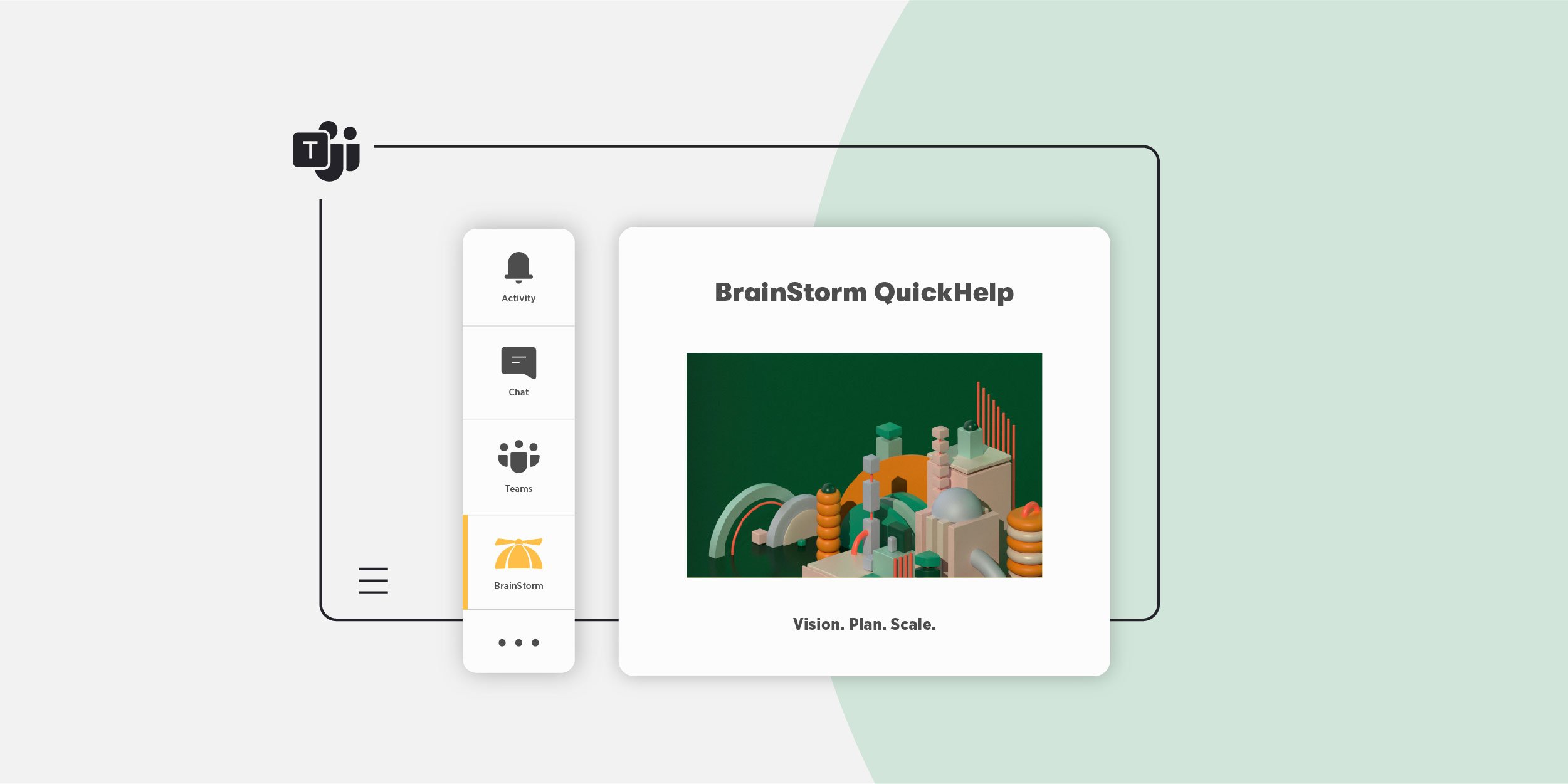 What will you do with Microsoft Teams apps?

Now that you've seen just a small sample of the total apps available to you in Microsoft Teams, hopefully you have a better idea of the problems Teams apps integrations can solve in your workflow.
Ready to integrate some apps into your users' Teams experience?
To encourage users to use Teams more consistently, think about the software and tools they use every day. Which apps can bring those tools into Teams
Alternatively, think about pain points in your org, either from an IT perspective or an end-user perspective. Where are processes slowing down? Which apps can smooth over those rough patches?
There's no better way to use Teams as a collaboration hub—so pick your favorite app and get started!