Files are the backbone of every business—including contracts, sales stats, marketing materials, documentation, and everything in-between. Organizations rely on cloud-based content management services like Box and Dropbox to store and share those files.
Plus, there's so much to love about the cloud. For example:
Anywhere access
– Today's users demand file access on the go. If your laptop dies—no problem. You can access cloud documents on a different device without missing a beat.
Collaboration:
Instead of sharing multiple versions of documents—share links with co-workers so everyone can contribute on the same document in real time. You'll enjoy features like autosave, chat, and more.

Share:
Choose when to share, who to share with, and when to revoke recipient access. Instead of long-term file sharing, you can control, update, or even delete it at any time.
History:
Most cloud storage features version history to restore previous drafts.
Storage:
The cloud can store all file types, including documents, images, audio, video, presentations, and more—with terabytes to unlimited storage sizes.
But about those file-hosting services—which should your organization consider? And what do your users need to know to use them effectively and securely?
For our purposes, let's zero in on four popular options: Box, Dropbox, Google Drive, and Microsoft OneDrive.
Making a case for multiple cloud services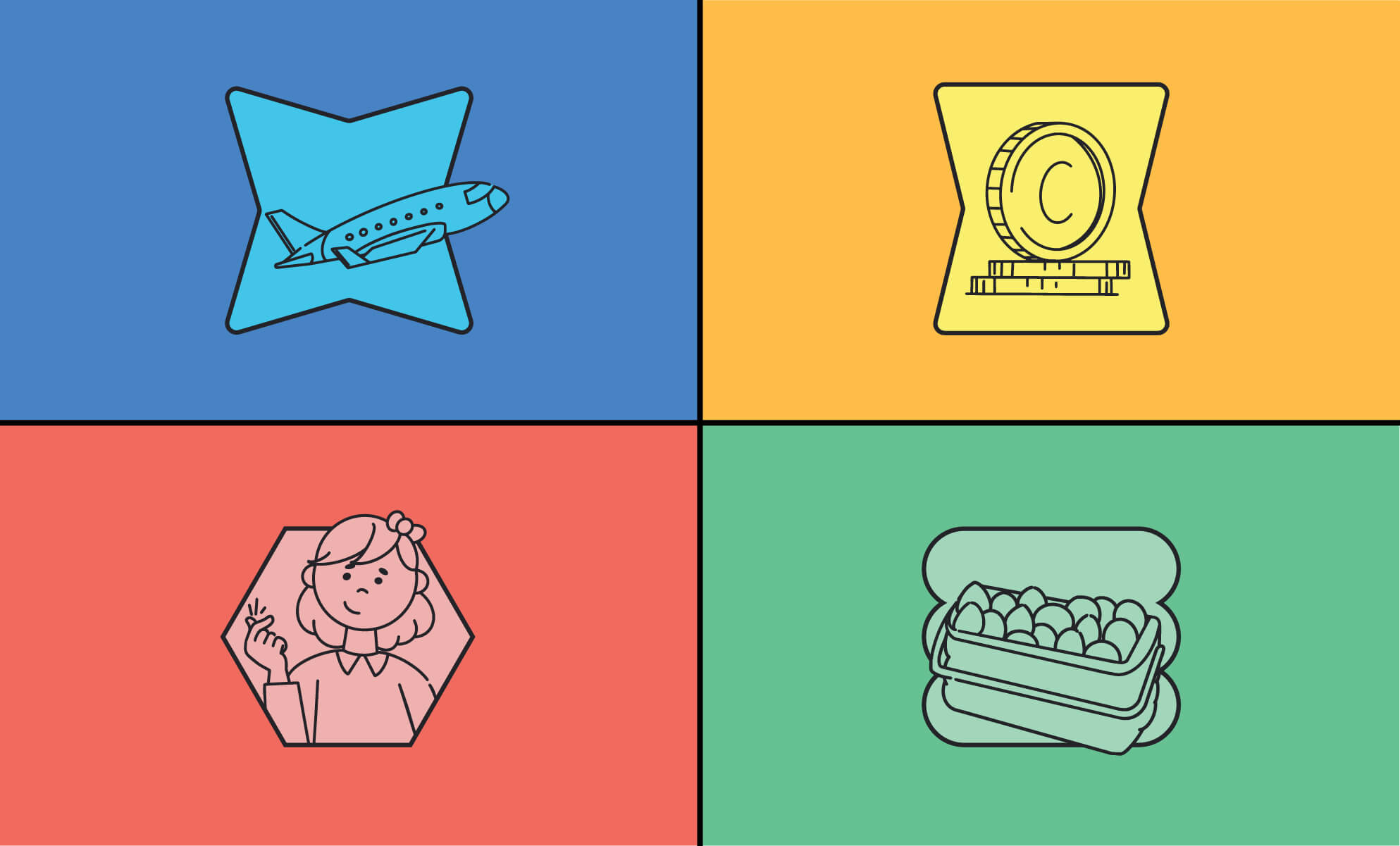 A multiple cloud (or multi-cloud) setup allows organizations to choose the best cloud provider for each workload or scenario.
For example, an organization may use one cloud company for communications like email and video conferencing, but use another cloud provider as a secure file-sharing option for their sales department to share outside their company.
A healthcare organization might choose a cloud provider specifically designed for HIPPA compliance, but needs a different solution to coordinate employee shift schedules.
A government or finance organization might rely on one cloud provider for compliance reasons, but another for their payroll and HR needs.
A marketing firm may choose one file storage provider for collaboration on large media files, but use a different provider for advertising distribution.
In the end, choosing to use more than one cloud provider comes down to business outcomes.
When one cloud service can't provide the most efficient and effective process for your organization, then it's time to look at a multi-cloud approach. If you're still on the fence, consider the following pros and cons of a multi-cloud strategy.
Multi-cloud pros
Limited access for increased security. You don't need to give every user in your organization access to each cloud account. Limiting user access protects your data from any potential breaches.

Working with international colleagues and compliance regulations. If you have international employees or clients, you might need a different service platform to work beyond your borders. Some regions, like the European Union, have different compliance regulations to uphold.

Avoiding vendor lock in. Depending on a single provider can make it difficult to switch without fees or even legal issues. You are also tied to the vendor's limits for storage, user interface, integrations, etc.

Using specialized providers for improved performance. Some cloud providers are experts or niche cloud services. Using the best cloud provider for specific needs boosts performances. For example, some niche cloud solutions are designed for media files, while others are specialized health care databases, still others for secure file sharing, and so on. On the other hand, some cloud providers cater to such a broad audience that they might not support the specific tools you need for an optimal workflow.

Diversifying to build resilience. If one cloud provider's servers go down, you don't have to stop business until they're back online. The same is true if the provider has a data leak or if you need to restore data.
Multi-cloud cons
Cost. Subscription costs for multiple providers can add up quickly. Fortunately, not every employee will require a license for each cloud service.

Confusion. The challenge of multiple logins can confuse—and fatigue—users. In addition, IT administrators have to manage all those platforms.

Best practices. End users need to understand and follow best practices for storing files depending on platform.
Maintaining a single-cloud environment
Some organizations only use one provider for everything saved in the cloud. Organizations using a single-cloud model often use one service, like email or customer relationship management.
For example, a small organization might not need a variety of specialized cloud service providers. One provider might supply adequate email, cloud storage, collaboration, and documentation needs.
Likewise, some orgs don't have an information-heavy process. Even some larger companies may not need more than one cloud provider if business needs are more streamlined (e.g., certain manufacturing, building, landscaping, maintenance, catering, construction, or a childcare business).
Typically, start-ups also can get off the ground (and into the cloud) with just single cloud service provider. Or, an organization may be migrating to the cloud from legacy platforms. To start off, they might use just one cloud provider.
Reliability is key when using one cloud provider. Do your due diligence to ensure your provider is a good fit for your workflow and business needs. To help you decide, consider the obvious pros and cons of a single-cloud strategy.
Single-cloud pros
Everything in one place. With only one location to search for files, it should make finding files a breeze.

One set of login credentials. Users and administrators alike can enjoy a SSO experience.

Consistency. No need for multiple trainings or remembering different interfaces.
Single-cloud cons
Security risks. If all your data is in one location and an account is compromised, then all your data is at risk. Ever heard of putting all your eggs in one basket? Create a proactive strategy now.

Storage limits. Most plans have storage limits, and it might not be worth the extra costs to add storage.
BELOW: Check out a side-by-side cost comparison.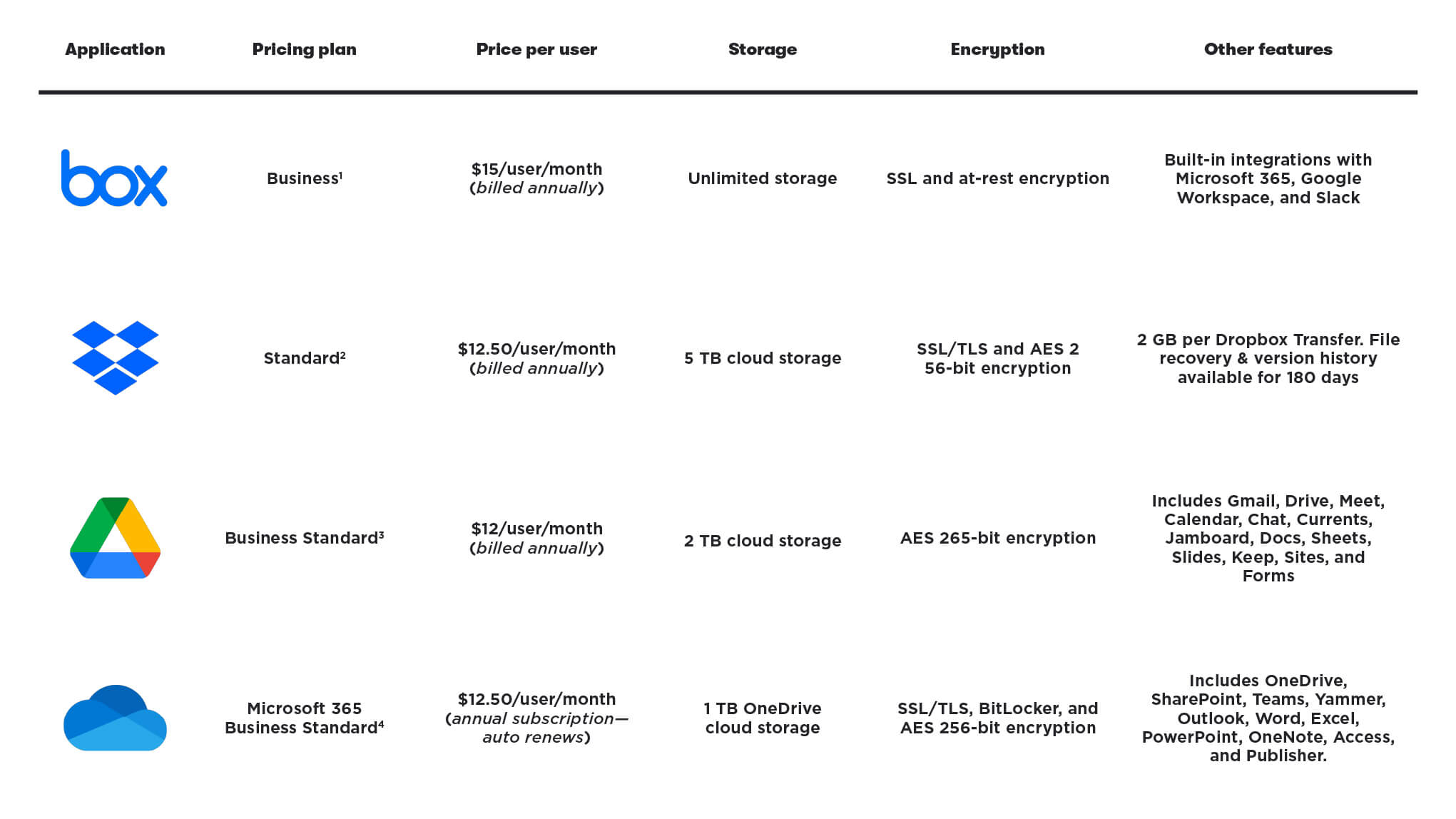 NOTE: All four storage solutions provide business-quality storage, security, encryption, file sync, and multi-factor authentication. Each one allows people to work simultaneously on the same file and see changes in real time. But each has differences—particularly, cost per user—that will directly impact your choice. Be sure to take advantage of any available free trials before committing to a plan.
Next, let's dive a little deeper into each provider.
Box
The Box interface makes it easy for users to jump right to recent files, favorites, or one of their collections (note: Box collections are private groupings users can create to organize content their way).
Connect to the apps your org already uses, with over 1,500 integrations. Box also includes its own integrated apps—for example, Box Notes, which is a place to store notes and ideas, and Relay, a workflow automation tool.
Unique to Box: Box was designed as an enterprise cloud storage solution, with tools for the organization level. Box Skills provides artificial intelligence such as image recognition, natural language processing, and speech-to-text transcription to business processes. Box Shuttle migrates terabytes of data to the cloud. The Box Sync feature allows users to sync files and folders selectively. Other security and compliance features include watermarking, managed encryption keys with Box KeySafe, and Box Shield threat detection.
Deployment: When you're ready to take the plunge, check out Box's seven implementation tips. As recommended, start with basic use cases first and then continuing training.
Additional support: Want to cover specific use cases and common scenarios in your Box training? Check out the BrainStorm QuickHelp platform, which covers multiple Box topics like:
What is Box?

Add comments in files

Improve business meetings with Box Notes

Search in Box Mobile

Share files on the go— iOS and Android
Dropbox Business
Beyond personal file storage, Dropbox is also an online workplace. For example, it's easy to use the collaboration tool Dropbox Paper to access and coauthor files anywhere.
Thanks to dozens of technology partnerships, Dropbox integrates seamlessly with many tools you already use. Essentially, Dropbox is the perfect bridge between productivity suites.
Unique to Dropbox: Dropbox pioneered the 'file sync' concept, and their product is familiar to many users. Initially, Dropbox focused on personal use but expanded to Enterprise. Dropbox security boasts a complex login encryption that integrates with both Google Drive and Microsoft 365 files—with links for opening files directly in their native apps. Dropbox Transfer can send large files to anyone, which is great for getting around email-attachment size limits.
Deployment: If you decide to roll out Dropbox, check out the business deployment guide, which outlines three phases and includes how-tos, checklists, FAQs, and additional resources.
Additional support: If in-person learning is more your scene, look into instructor-led training. Additionally, explore virtual Dropbox training materials in the BrainStorm QuickHelp platform, focusing on use cases like:
Get started with Dropbox

Upload files

Streamline collaboration

Use keyboard shortcuts in Dropbox Paper

Why Dropbox Transfer

Take Dropbox on the Go—iOS and Android
Google Drive
Most people know Google Drive as Google Workspace's answer to file storage. Drive integrates with the other Google Workspace apps including Docs, Sheets, Slides, and Forms.
Like other solutions, Google allows multiple users to view, edit, and comment on files in real time for instant feedback.
A powerful embedded search feature makes it easy to find what you're looking for in Drive. And AI integration surfaces the most relevant content so there's no need to dig.
Unique to Google Drive: At a monthly cost of $12 per user, Google Workspace is the most affordable option in this comparison. Google also offers 24/7 customer support via email, phone, or live chat with an actual human. Feature integrations in Google allow you to edit photos or videos, incorporate third-party media players, and more within the Google Drive interface. Google's reputation around security, spam filtering, virus detection, and malware protection are all baked into Workspace and Drive.
Deployment: Thanks to the Google admin guide, deploying Google Workspace is just as easy for one or hundreds of users, within a large organization or a nonprofit. Consult the guide for setting up administrator and user accounts.
Additional support: As users learn Drive best practices, they can also access wider Google Workspace training in BrainStorm QuickHelp. Topics include:
Organize documents and folders

Access calendars from Drive

Stay focused with the side panel

Back up and sync files

Collaborate with guests

Use the mobile app—iOS and Android
Microsoft OneDrive
OneDrive for Business is a core piece of the Microsoft 365 stack. Essentially, OneDrive is the force behind Teams, Word, Excel, PowerPoint, and most everything else. To collaborate on a document, just share a link to work on the same file and see changes in real time.
OneDrive comes pre-installed and ready to go on Windows machines. It's also compatible with Mac and Android devices. OneDrive keeps sensitive data secure, with varying levels of protection based on your subscription type.
Unique to OneDrive: For ease of use, OneDrive stands out with the sync feature in Windows. OneDrive sync lets users control what files or folders sync to their devices. OneDrive and Microsoft 365 follow a zero-standing access policy—which means data isn't accessible to Microsoft engineers without prior permission. OneDrive Personal Vault allows users to lock files with an extra layer of security and protect data even if a PC is lost or stolen.
Deployment: Microsoft provides in-depth deployment guides for both small businesses and Enterprise customers. Admins can visit the Microsoft 365 admin center for installation and other support.
Additional support: Get the most out of your software with BrainStorm's Microsoft 365 training. It's comprehensive, with OneDrive topics like:
Meet OneDrive

OneDrive integration basics

Accessing OneDrive remotely

Save to OneDrive by default

Make files available to view offline—iOS and Android

Use the Sync Client
What end users need to know
No matter which cloud service you choose, your end users need to know how these tools apply to the way they work individually. No surprise: this isn't always obvious to end-users.
For the best results, share bite-sized learning content about any/all storage solutions you roll out. At minimum, your users will need:
1. Productivity training
Basics: software introduction, login, interface walkthrough, navigation

Which cloud service(s) to use when

Creating/uploading files, and coauthoring (if available for file type and service)

Adding comments in files, assigning tasks, sharing folders with colleagues

File and folder sharing with links

Managing file collaborators via access and permissions

Accessing files from a user's desktop
No matter what cloud services you deploy, your users must follow security best practices. Our recommendation: Test your users' cybersecurity savvy with BrainStorm Threat Defense.
2. Security training for the cloud
Find out how users are sharing files internally and externally.

Poll users about their understanding of link permissions (e.g., restricting downloads or enabling view-only mode).

Ensure that users know your organization's data protection policies and limits.

Teach users best data transfer practices.

If relevant, instruct users on when they should use multiple cloud storage tools at your organization.
Here's the thing. Cloud platforms can encrypt data but cannot prevent users from sharing sensitive info. Learn more in our eBook, The ultimate guide to security awareness training.
Happy file storing!